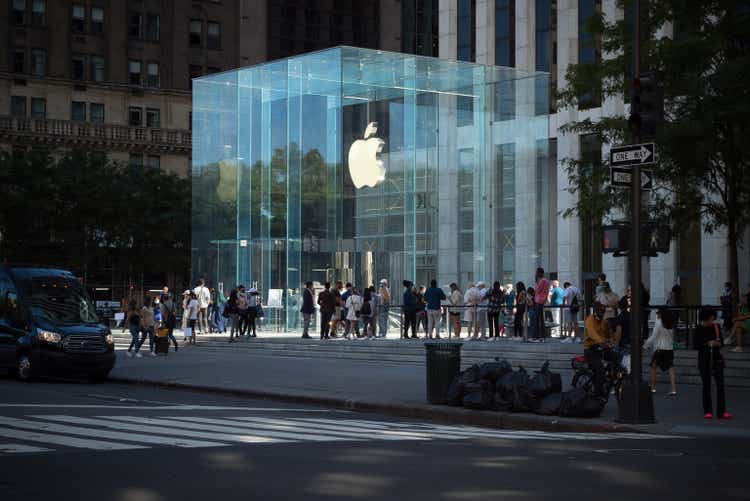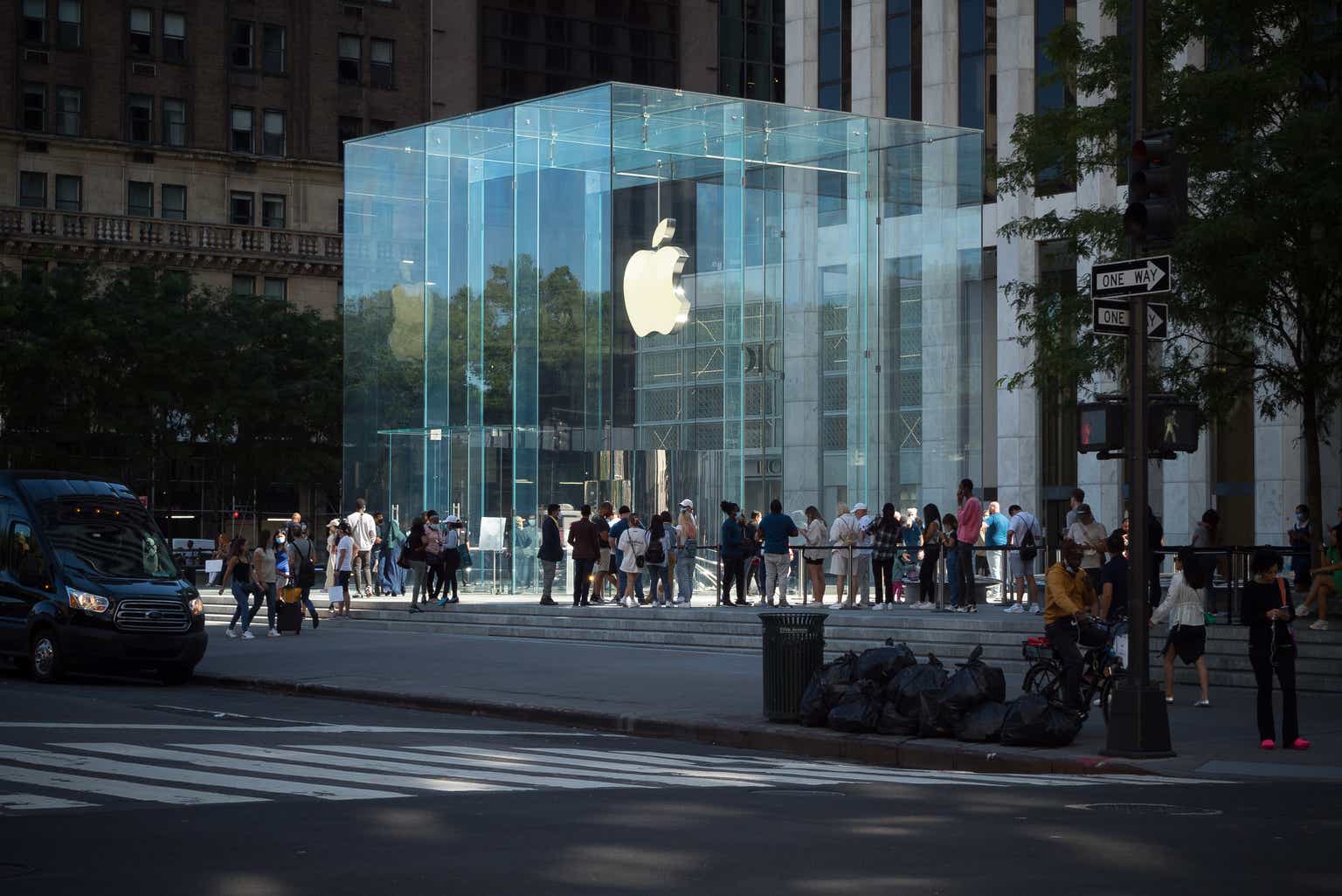 Recession talk is everywhere, as the global economy deals with surging prices, rising interest rates and geopolitical instability.
And with such issues showing few signs of abating soon, a report from Goldman Sachs said companies like Apple (NASDAQ:AAPL), HP Enterprise (NYSE:HPE) and Corsair Gaming (NASDAQ:CRSR) have some of the highest downside risk in the event of an economic slowdown.
A team of analysts, led by Rod Hall, noted that Apple (AAPL) shares could have more than a 40% downside in a bear case scenario. Such a situation would include the U.S. gross domestic product [GDP] contracting between 4% and 5%, or similar to what was seen in 2008 and 2009.
Looking at the worst case scenario for Apple (AAPL), Hall's team said the company's 2023 revenue estimates could be cut by as much as 15% compared to the base case situation, and Apple (AAPL) could see its earnings drop to $4.47 a share, or 33% less than consensus forecasts.
In addition, the firm took down its revenue forecasts in every Apple (AAPL) business segment except for the Mac, as it believes Apple's (AAPL) computers will likely see "continued healthy demand and market share gain."
Hall, who has a neutral rating on Apple's (AAPL) stock, recently lowered his price target on the tech giant to $130 a share from $157. Hall noted that weaker-than-expected iPhone sales, along with pressure on gross margins and large, dilutive acquisitions could further accelerate risks to the downside.
However, Apple (AAPL) could still see better-than-expected iPhone demand, along with continued growth in its services segment and the continuation of "significantly outsized" stock buybacks aiding earnings per share.
For HP Enterprise (HPE), Goldman said a potential recession may not be as bad for it as it could be for some other companies, but it comes down to how bad the IT demand environment gets.
In a bear case scenario, Hewlett Packard Enterprise (HPE) could see its estimated 2023 revenue cut by as much as 12% and gross margins fall by 2% due to stagflation.
Goldman recently lowered its price target on Hewlett Packard Enterprise (HPE) to $12 a share from $13 due to worries about higher operating expenses and lower revenue. However, the firm noted there could be the potential for a better spending environment, more cost cuts than expected and continued monetization of its H3C group, which provides equipment to the Chinese market.
Hovering over everything is rising and inflation and ongoing fears about an economic recession. Goldman said that in addition to inflation in the U.S. being at its highest level since 1981, and there is now more than a 30% chance of a recession, growth forecasts continue to fall.
And though the firm doesn't expect a full-blown crisis like 2008 and 2009, investors have started to prepare for such a scenario, with consumer electronics having the "most downside risk to fundamentals should a worse downturn in demand" eventually materialize.
With Corsair (CRSR), which makes gaming peripherals and became a meme stock last year, Goldman Sachs sees the potential for a 15% cut to its 2023 revenue estimates if an economic downturn happens.
Conversely, companies such as Ciena (CIEN), Qualcomm (QCOM), Arista Networks (ANET) and Pure Storage (PSTG) have the least downside risk among larger cap tech stocks, Goldman added.
Apple (AAPL) recently lowered the trade-in values for select iPhones, iPads, Macs and Apple Watch versions, as the tech giant gets ready for a product refresh later this year.