Data shows that Bitcoin's long-term holder supply is back up, setting a new all time high. This suggests that there may be a return to conviction in the market.
The FTX Panic Selling Recovers Bitcoin Long-Term Holder Supply
The latest weekly report by GlassnodeBTC long-term holders currently hold 72.3% of total circulating supply. The "long-term holder" (LTH) group is one of the two major cohorts in the Bitcoin market and includes all investors who have been holding onto their coins for at least 155 days ago, without having moved or sold them from their wallet.
Related Reading: Bitcoin NVT Golden Cross Still In "Overbought" Region, Volatility To Follow?
"Short-term holders" (STHs) make up the other side of the market. Statistics show that the more investors keep their coins, the less likely they are to sell. Therefore, LTHs are the more resolute group of the two and are sometimes dubbed the "diamond hands" of the market.
The "LTH supply" is an indicator that measures the total amount of BTC that these HODLers as a whole are currently carrying in their wallets. Below is a chart showing the trends in this metric for the past few years.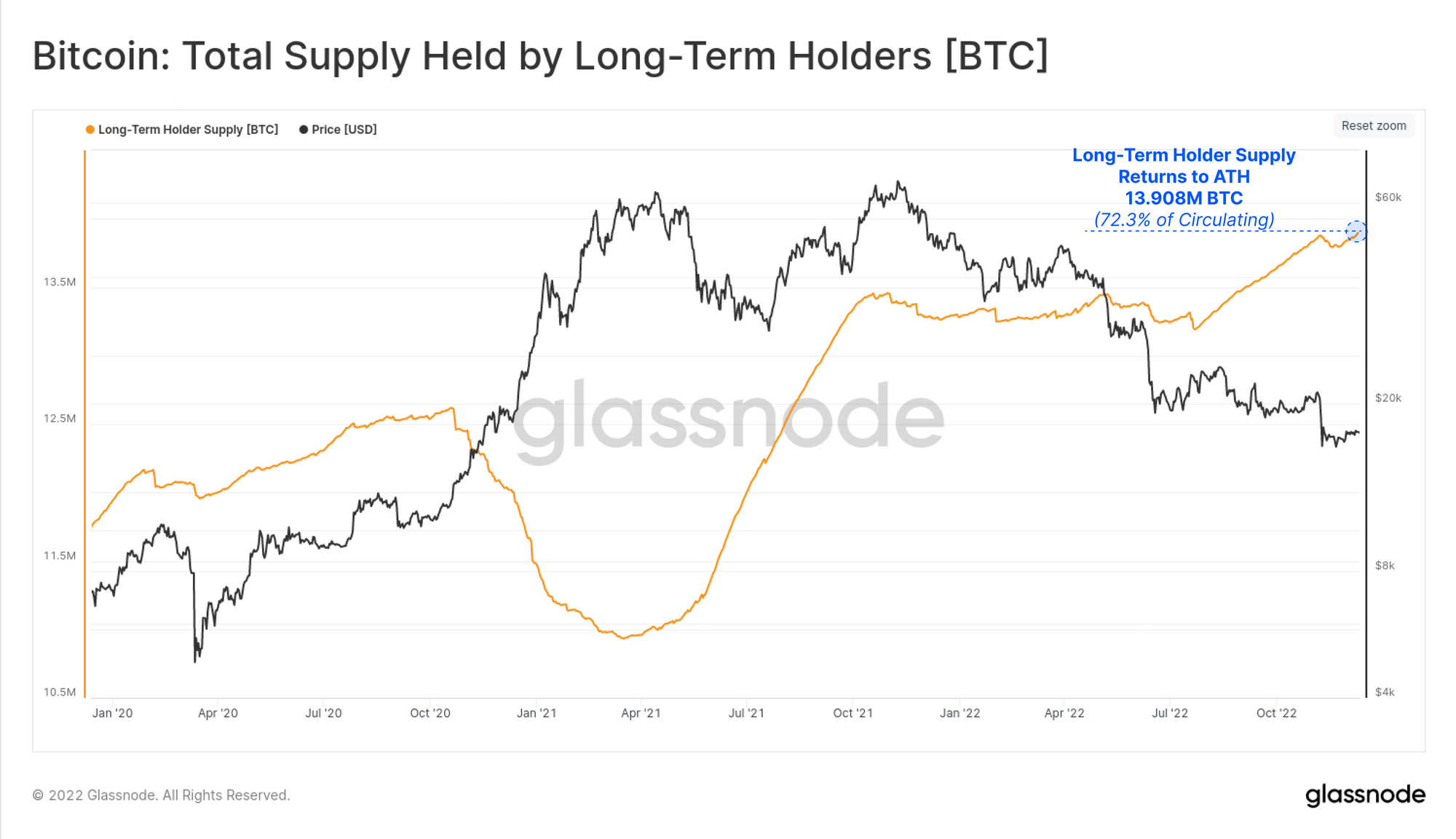 Source:| Source: Glassnode's The Week Onchain - Week 50, 2022
The graph above shows that Bitcoin LTHs showed a strong accumulation trend from July to early November, which caused their supply to rise to a new high. The trend was reversed by the collapse of the crypto-exchange FTX. These holders began to shed their holdings quickly.
This indicator is declining, indicating that even these determined holders panicked after the crash and decided to sell their coins. However, the tides seem to have changed in recent weeks. The LTH supply has been increasing steadily even though the market traded in a sideways fashion, which suggests that investors are back to accumulating.
The metric has now retraced all the drawdown from the FTX crisis and has hit a new record of 13.9 Million BTC. That is approximately 72.3%.
The 155-day threshold would have put the source for this new streak in accumulation back in June or July of this years, when the 3AC collapse occurred.
This is a sign that Bitcoin HODLers are returning to conviction, something historically considered bullish for the long-term.
 Source:| Source: BTCUSD on TradingView
At the time of writing, Bitcoin's price is trading around $17.2k, up 1% in the last week.