The $16,920 support was still a strong support for Bitcoin. BTC gained higher and may soon break the $17.500 resistance zone.
Bitcoin has seen a strong interest in buying near the $16,920 & $16,900 levels.
The price trades above $17,000, as well as the simple moving average of 100 hours.
A major contracting triangle is emerging with resistance close to $17,220 in the hourly chart of BTC/USD (data feed from Kraken).
Bullish momentum could be gained if the pair can clear $17.250 and $17.450 resistance levels.
Bitcoin Price Takes a Break
Bitcoin prices fell from their $17,292 swing peak. BTC fell below the $17,000 level, and the 100 hourly simple moving mean.
However, bulls were active around $16,920-$16,900 levels. A low was reached at $16,880. The price then began to rise again. Clear movement was seen above the $17,000 resistance area and the 100 hourly simple moving mean.
The Bitcoin price is consolidating gains at the $17.150 level. The minor decline was below the 23.6% Fib level of the recent jump from $16,880 lows to $17.247 highs.
The $17,150 level is the immediate resistance. A major contracting triangle is also emerging with resistance close to $17,220 in the hourly chart. The $17.300 zone is the first major resistance. If the price rises above that level, it may revert to the $17.450 area.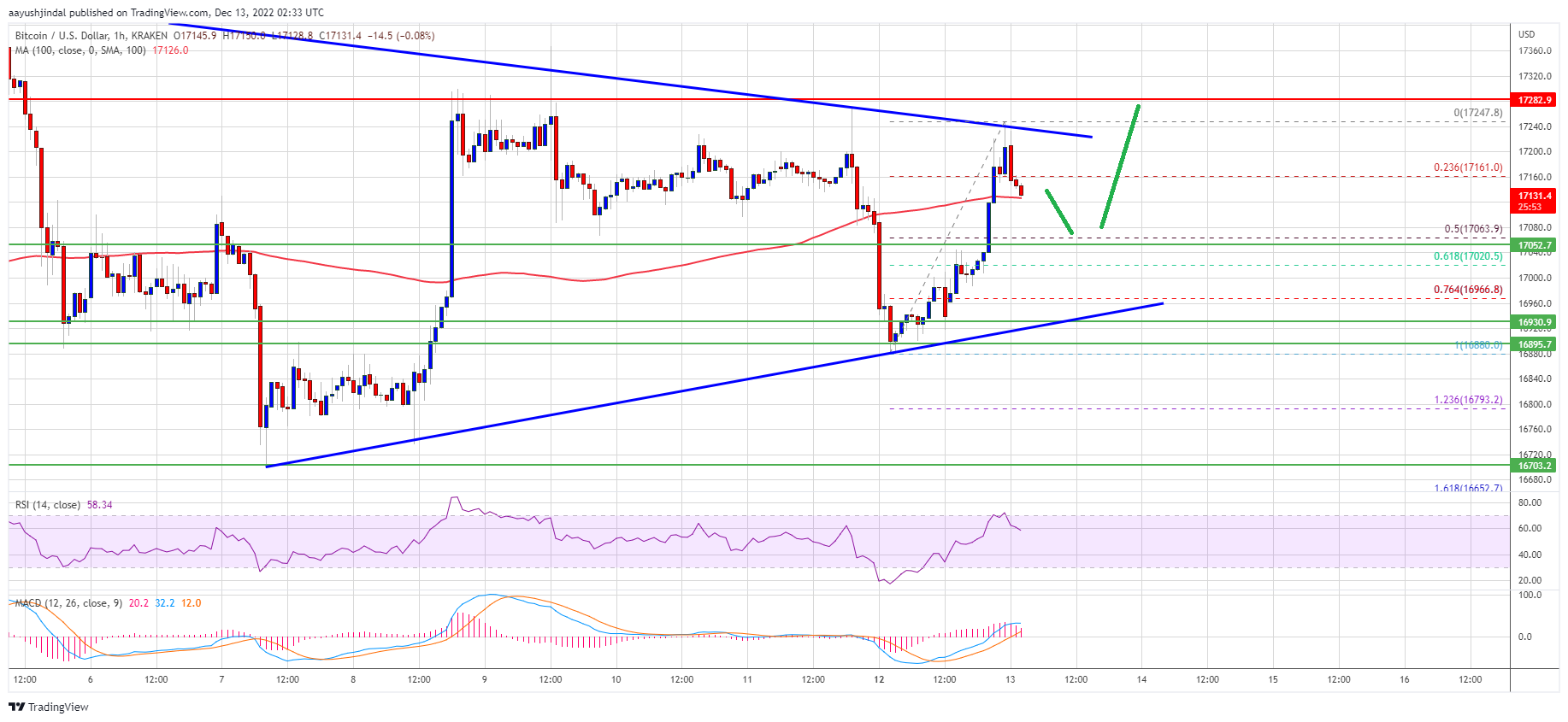 Near $17,500 is the next major resistance. Above that, the price will start to rise towards $18,000 in the near future.
BTC Dips Limited
Bitcoin could fall further if it fails to overcome the $17.150 resistance. Support for the downside is found near the $17.120 level and 100 hourly simple moving Average.
Near the $17,000 area is the next major support. It is at the 50% Fib Retracement level of recent increases from the $16,880 high to $17.247 low. A drop to $16,880 could be possible if the downside break is below $17,000. In the short term, any further losses could push the price towards $16,500.
Technical indicators
Hourly MACD – The MACD is now losing pace in the bullish zone.
Hourly RSI (Relative Strength Index) – The RSI for BTC/USD is now above the 50 level.
Major Support Levels – $17,000, followed by $16,880.
Major Resistance Levels – $17,150, $17,300 and $17,450.