Today and tomorrow will be the most crucial days for the Bitcoin market and cryptocurrency market. Today's release of the Consumer Price Index (CPI) will possibly be the key for the coming weeks and months.
The CPI for November will release at 8:30 ET. Tomorrow, Wednesday, at 2:00 ET the Federal Open Market Committee's (FOMC), will announce its December interest-rate decision.
After that, Federal Reserve Chairman Jerome Powell (at 2:30 pm) will address the media and explain the reasoning behind the decision. He will also present the updated forecast for inflation rate and interest rates (dot graph).
Bitcoin and risk assets such as it will likely rally if CPI reports better than expected. If the CPI falls short of expectations or even rises, it could mean a rude awakening for BTC investors – at least this seems to be the market consensus.
Expectations for today's CPI are 0.4% lower than the previous month, when it came in at 7.7%. The projected CPI is therefore 7.3%.
JPMorgan Draws Possible Scenarios
JPMorgan, the banking giant, has published an analysis showing that CPI inflation lower than 6.9% could lead to a major rally in traditional trading market.
Given Bitcoin's correlation with USD markets and the S&P 500 in particular, this could likely have a beneficial impact on the BCT price. JPMorgan has listed six scenarios.
With a 50% chance of happening, the most likely and most probable outcome is a Y/Y CPI range between 7.2% to 7.4%. JPMorgan predicts that this would cause a modest rise in traditional markets. It would also likely have an impact on Bitcoin and cryptocurrency markets.
Markets heavily depend on expectations so it is uncertain if most market participants haven't priced this in.
JPMorgan sees the second most likely scenario, with a probability 25%, as a CPI between 7.5%-7.7%. This would indicate a slight decline or stagnation in inflation.
According to the banking giant, this would cause the S&P 500 to plummet massively, by 2.5% to 3.5%.
The Bullish Scenarios For Bitcoin
Furthermore, JPMorgan assigns a 15% probability to the bullish scenario of CPI landing at 7.0% to 7.2%, which could mean a 4% to 5% rally for the S&P 500.
JP MORGAN SHARED 6 POSSIBLE SENARIOS.

The most likely and expected outcome is Y/Y CPI coming in between 7.2% and 7.4% pic.twitter.com/speetTM55h

— GURGAVIN (@gurgavin) December 12, 2022
The most bullish scenario is that of the banking giant, with a CPI of 6.9% and below, only a 5 percent chance. But then the S&P 500 could see a legendary rally of 8% to 10%. This could lead to double-digit gains for Bitcoin, as Bitcoin has a higher beta.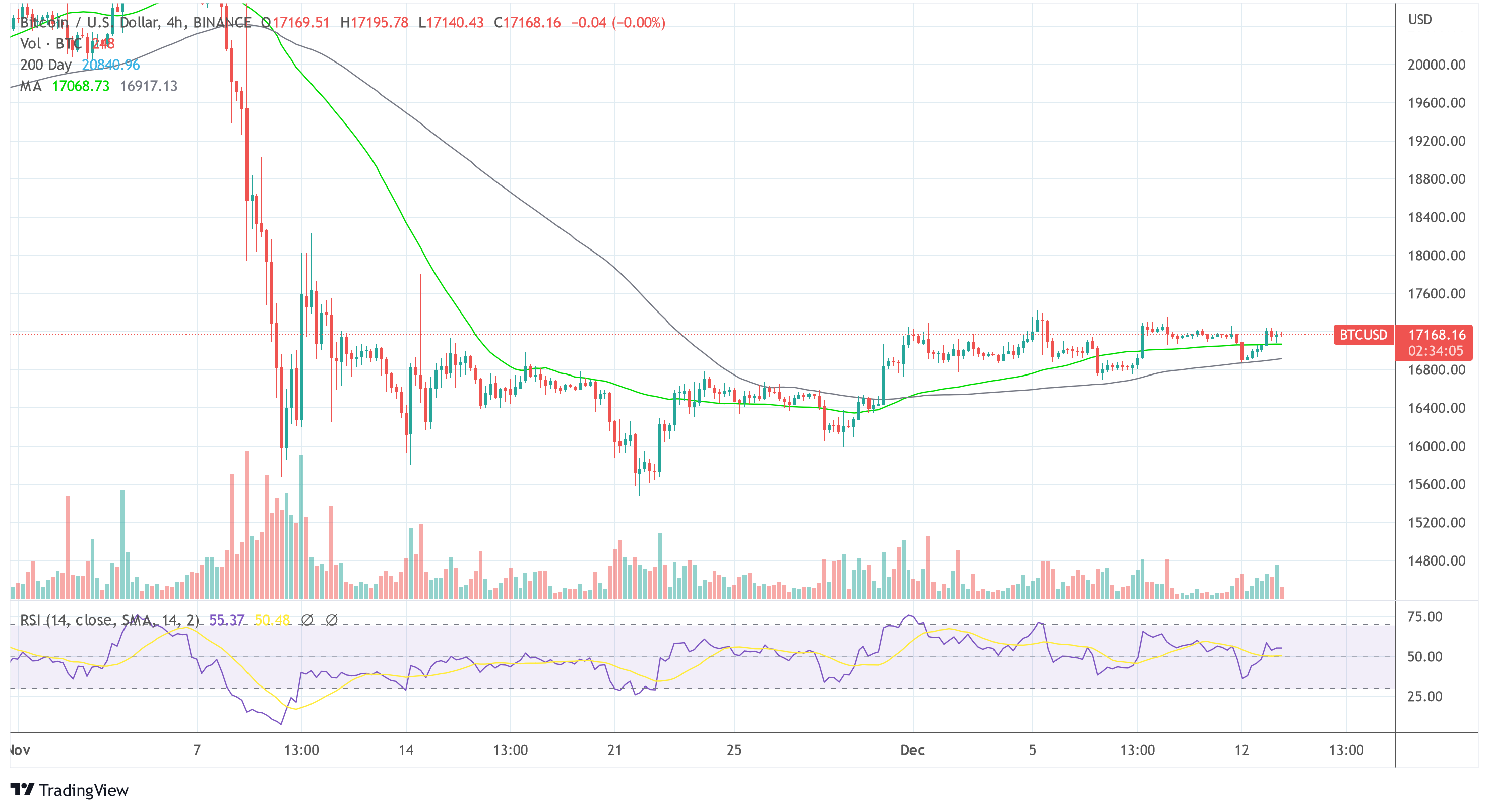 BTC investors remained at the sidelines, waiting for the CPI announcement. BTC was $17,168.