NFT

---
Reddit Recap transformed users' profiles into trading cards with all the tell-tale signs of an NFT. There is speculation in the crypto world because the cards are equipped with ratings, traits, abilities and other information.
There is much speculation in the crypto community that Reddit might release more NFTs. Reddit Recap, which recently released trading cards for user profiles, supports this theory.
Reddit's Recap for the year shows users their use of the platform over the year and includes such personalized as their most upvoted comments. There is also an area where users can see a trading-card format of their profile, and a rating that is based upon the karma earned.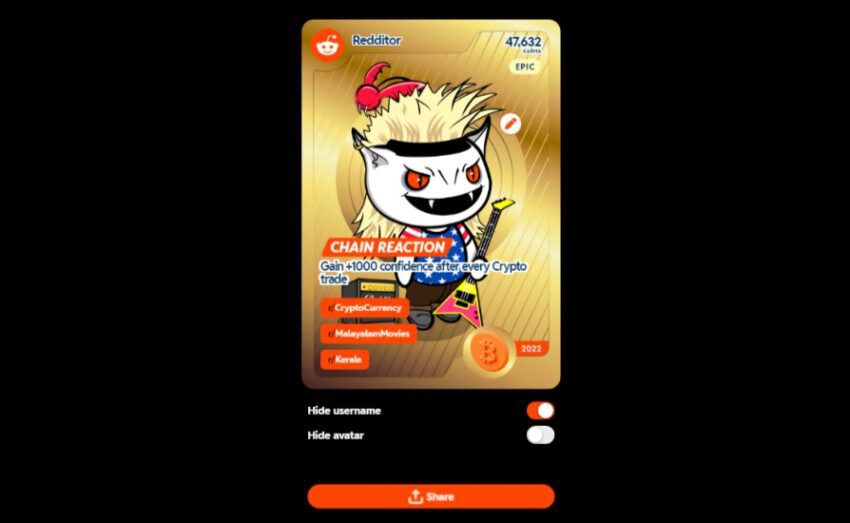 The trading card profile is very similar to an NFT. This has prompted a lot of discussion among crypto community members. A trading card gives them a superpower. For example, it can give them an increase in stats after performing certain actions.
There are many indicators that NFTs could be coming. These include ratings, traits, superpowers and flashy designs. Reddit can also share this card.
Crypto Community begins to investigate
The crypto community has been very enthusiastic about the matter, looking for details on a possible NFT launch. It seems probable that a contract was created for the recap by one user.
There isn't much more information in the way of an NFT release, but all the signs point to it. It's possible that Reddit will announce a new initiative before the year ends, given the heavy speculation.
Reddit has been enthusiastic about NFTs in the past as well as cryptocurrency. There's been a lot of growth in terms of its avatar NFTs, which is another positive sign.
Reddit's NFT Avatars Showing Great Growth
Reddit's NFTs have been substantially picking up pace in terms of adoption in 2022. According to Dune, avatar minting reached an all-time high in December 3. More than 255,000 were produced, and there are over 4,000,000 avatar owners.
While avatars grew at a fast pace from September, they've experienced a particularly sharp rise in the past few months. These avatars' total cumulative sales volumes exceed $11.7 million across 95,000 sales. The avatar with the highest sales volume was sold for 30 ETH. It was valued at around $40,000 as of press time.
Pali Bhatt, Reddit's first Chief Product Officer, is a large reason behind the success of Reddit's NFTs. He has praised the Reddit NFT avatars' success in a difficult year.
---