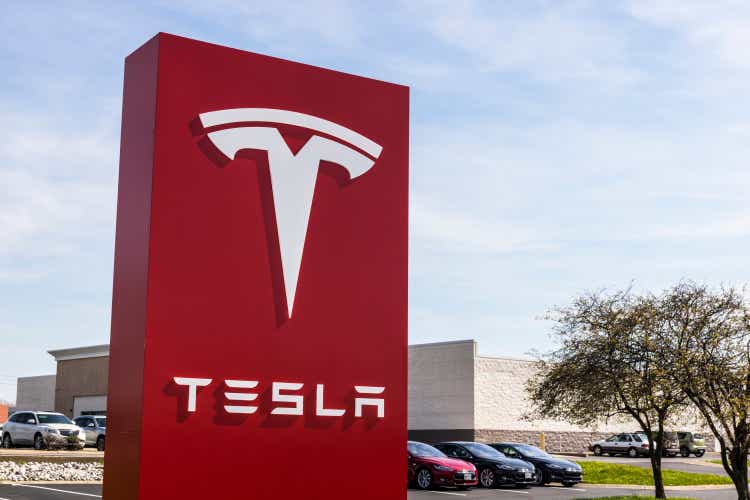 Tesla (NASDAQ:TSLA) achieved its highest monthly sales of 78,906 China-made vehicles in June, since opening it's Shanghai plant in 2019, exceeding last December 2021 record high of 70,847 – Reuters.
Sales jumped ~138% Y/Y and ~145% M/M.
The company surpassed its expectation to make more than 71,000 vehicles at its Shanghai plant in June, according to an internal production memo seen by Reuters.
EV maker sold 32,165 China-made vehicles in May and 1,152 vehicles sold in April (Shanghai plant reopened on April 19 after 22 days of city-wide lockdown).
The company exported 968 units during the month vs. 22,340 units during May, nil in April and 60 in March.
Local deliveries jumped to 77,938 vs.9,825 units in May.
The company sold 52,557 China-made Model Y SUVs in June, up 352.18% Y/Y and up 794.59% M/M.
The company is taking steps to boost production at its Shanghai plant and expects upgrade to be completed around August 7, when Model Y production will increase to 14,000 units per week from about 11,000 before the Covid outbreak, and Model 3 production will increase to 7,700 units per week from 5,500 previously.
The company plans to double its original annual target to 1M units.
As per China Passenger Car Association, China's wholesale sales of new energy passenger vehicles increased 141.4% Y/Y and +35.3% M/Mto 571,000 units in June, surpassing last December's 505,000 units and setting a new historical record.
On YTD basis, wholesale sales of new energy passenger vehicles in China were 2,467,000 units, up 122.9% Y/Y.
A quick look at Tesla's monthly sales trend since 2020: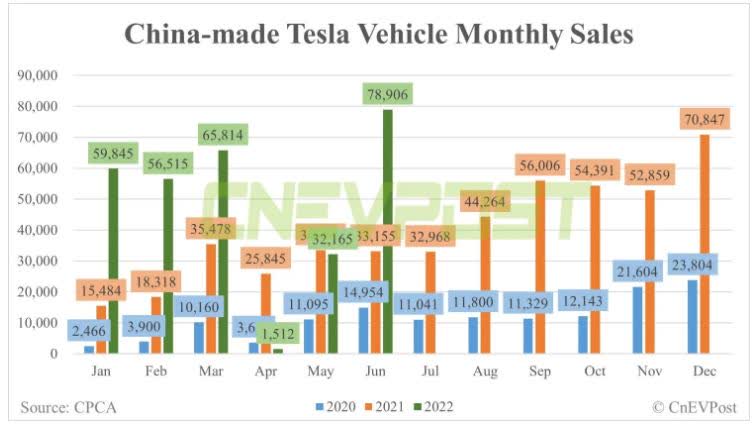 Shares down 0.9% PM.
On Saturday, the company reported its Q2 delivery figures of 254,695 units missing the forecast of 261,181 vehicles, 17.9% down sequentially.
The company is all set to report Q2 earnings after the market close on July 20, 2022.
Read the most recent TSLA stock analysis here.