Blockchain

---
MetaMask, a browser extension and mobile app that lets users interact with the Ethereum blockchain, is free and open-source. ConsenSys, a company that develops blockchain software, released it for the first time in 2016.
MetaMask, which was launched in 2016, has been a popular Ethereum wallet and is being used by millions around the globe. Developers love it because they can easily test and deploy smart contract on the Ethereum network.
MetaMask can be used as more than a wallet. It can also be used as a gateway into the decentralized web (also called Web3). MetaMask allows users to access decentralized apps (dApps), on the Ethereum network. This includes games, exchanges and social media platforms.
MetaMask can be used easily. The first step is to install the extension in your browser. This extension is available for Chrome Firefox and Brave. Once the extension has been installed, you will be prompted for either creating a new wallet or importing an existing one. Securely storing your seed phrase is essential as it is the only way you can recover your wallet if your password is forgotten or your device is lost.
After you've set up your wallet, you need to buy Ether, the native currency of the Ethereum network. There are four options to add $ETH into your MetaMask wallet
"You can easily buy tokens directly within MetaMask by clicking 'Buy'. You have a variety of payment options and networks. Your region will determine which one you choose. You can also request funds for a friend by sending them payment requests, showing your QR code to them in person, or sharing your public adress."
Once you have Ether, it is possible to use it to interact and send payments, as well as participate in Decentralized Finance (DeFi) transactions.
MetaMask has many advanced features beyond its core capabilities. For example, you can customize the gas price for your transactions or connect to different Ethereum networks (e.g. mainnet, testnet).
In October 2020, "MetaMask Swaps" was introduced; this is a feature that allows MetaMask users to swap tokens directly from their wallet. Note that "swaps combines data from multiple decentralized exchange aggregators, professional market makers, and individual DEXs — like AirSwap — to ensure MetaMask users always get the best price with the lowest network fees."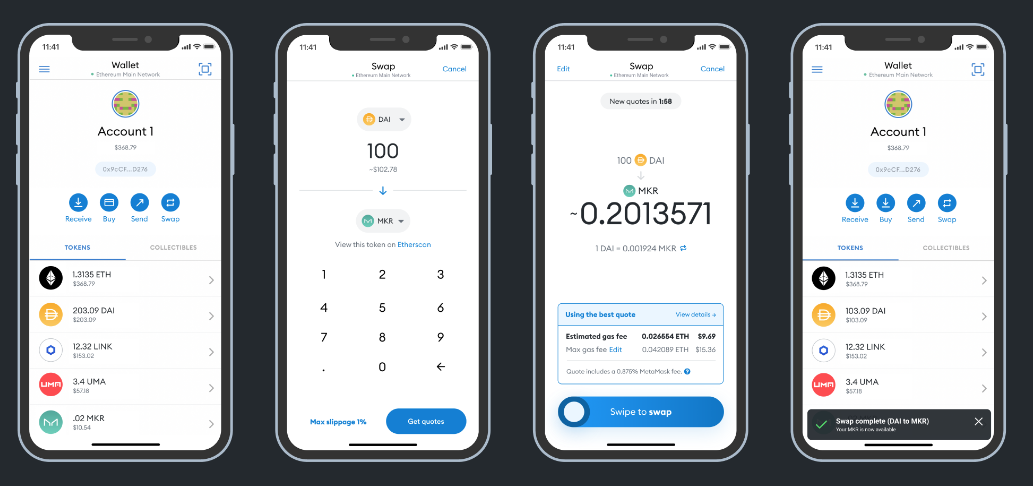 Source: MetaMask
MetaMask is an intuitive and user-friendly tool which makes it easy to interact and use the Ethereum blockchain. It also allows you to access the decentralized Web. MetaMask is a fantastic choice for anyone looking to create smart contracts or for casual users interested in exploring dApps.
As the MetaMask team points out, it is important to keep in mind that "importing an existing wallet into a new installation of the MetaMask extension and/or app is one of the only times you'll ever need to input your Secret Recovery Phrase"; so, "if any application or extension unexpectedly asks you for your Secret Recovery Phrase, make sure you're in the right place."
Image Credit
Pixabay Featured Image
---