US inflation data in the coming week are expected to stay consistent with a gradual step-down in cost pressures, and will help determine the size of the Federal Reserve's next interest-rate increase.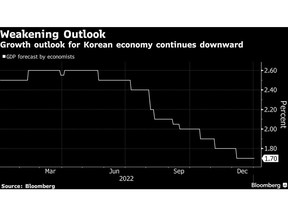 Article content
(Bloomberg) — US inflation data in the coming week are expected to stay consistent with a gradual step-down in cost pressures, and will help determine the size of the Federal Reserve's next interest-rate increase.
Article content
The consumer price index excluding food and energy, known as core CPI and seen as a better underlying indicator than the headline measure, is projected to have risen 0.3% in December. 
Article content
While slightly more than November, the monthly advance would be in line with the average for the quarter, and well below the 0.5% average seen from January through September amid the highest inflation in a generation.
Thursday's figures will be some of the last such readings policy makers will see before their Jan. 31-Feb. 1 meeting and rate decision, the first with a new rotation of voting members. Economists are penciling in a 25 basis-point increase in the Fed's benchmark rate, though officials have indicated a half-point hike is possible.
Article content
The Labor Department's CPI is expected to show core inflation increased 5.7% from a year earlier. It would be the highest December to December print since 1981. While it's well above the Fed's goal, and helps explain policy makers' intention of keeping rates higher for longer, year-over-year price growth is moderating.
This report will be published almost a week after the US jobs report revealed that wage growth in December, which is a key indicator of inflation outlook, had slowed. 
Read more: Fed Gets 'Goldilocks' Report: Slower Wage Growth, Solid Hiring
The CPI figures highlight a relatively quiet data week that also includes weekly jobless claims and January consumer sentiment. On Tuesday, the Washington-based World Bank will publish its bi-annual economic outlook and warn of recession risks. 
Article content
What Bloomberg Economics Says:
"The favorable inflation developments aren't a result of Fed rate hikes — they're mostly explained by China's ugly exit from Covid-zero, and an usually warm winter. Nevertheless, inflation risks are now more complicated because of the sharply falling energy prices. If this trend continues, it could be the 'compelling' evidence the Fed needs to see before it pauses or considers cutting rates."
—Anna Wong and Eliza Winger, economists. For full analysis, click here
Elsewhere, data expected to show faster price gains in Japan and China, plus an assessment of how German economic growth cooled in 2022, will draw the attention of investors. 
Article content
Click here for what happened last week and below is our wrap of what is coming up in the global economy.
Asia
South Korea will kick off this year's Asian central bank decisions, with the Bank of Korea on Friday set for what could be the last rate hike of its current tightening cycle as growth concerns grow. 
Governor Rhee Chang-yong is keeping the focus on inflation while being increasingly wary of the impact of elevated borrowing costs on the economy's momentum. 
In Japan, Tokyo CPI numbers on Tuesday are likely to show a further acceleration in inflation as investors keep a close eye on the Bank of Japan following December's surprise monetary policy move. 
Down Under, Australia will report retail sales and CPI numbers. Inflation is expected to continue its upward trend. 
Article content
China's inflation data on Thursday are expected to show PPI remaining close to deflation in December, while consumer inflation ticked up slightly. 
The People's Bank of China is due to publish monthly credit data, which will be closely watched to assess whether monetary stimulus is flowing through the economy. 
Inflation data from India will be released. It is likely that there will be a cooling of prices for the third consecutive month.
For more, read Bloomberg Economics' full Week Ahead for Asia
Europe, Middle East, Africa
The first major global monetary conference of 2023 takes place in Stockholm on Tuesday, focused on central bank independence and hosted by newly-installed Riksbank Governor Erik Thedeen. 
Fed chief Jerome Powell, along with peers from the UK and Canada, Spain, and the Netherlands, are scheduled to speak. Isabel Schnabel, a member of the European Central Bank Executive Board is also scheduled to speak.
Article content
Friday will feature several data releases. The German Statisticians will publish an estimate for economic growth in 2022. This report is normally the first to be published from the Group of Seven industrialized nation. It may also hint at the performance of the fourth quarter. 
The numbers are likely to signal how the post-pandemic rebound in Europe's biggest economy was smothered by the energy crisis following Russia's invasion of Ukraine. According to officials, Germany is currently in recession. 
The euro area may see a partial recovery from the month-long drop in industrial production. ECB statistics on whether banks have repaid longer-term loans will be also published.
Article content
UK growth data for November, also on Friday, are expected by economists to show a decline from October. The report may help confirm the Bank of England's fears that the economy there is slumping too. 
This week will feature consumer-price data for Norway, Sweden and Denmark. It comes just days after eurozone inflation dropped to single digits in an update that still showed strong underpinning pressures. Similar statistics will be released by Russia and Ukraine.
Romanian officials may increase the key interest rate by a further 5% on Tuesday. Their Serbian counterparts might do the same the next day. Kazakhstan's monetary decision is on Friday.
For more, read Bloomberg Economics' full Week Ahead for EMEA
Article content
Latin America
Mexico on Monday posts both full month and bi-weekly consumer price reports to close out 2022, and most analysts forecast a slight acceleration back up toward 8%. Banxico could be pressured to increase its record-breaking hike cycle by core readings above 8% and the faster cooling of US inflation.
Brazil's December consumer price data will be posted on Tuesday. Analysts are expecting a print of 5.6%, which is approximately 650 basis point below the 2022 record. November retail sales in Brazil were likely supported by low unemployment, slowing inflation, and government cash transfers. 
Many economists have been lowering their 2022 Argentina consumer prices forecasts. A consensus of 95% was reached for the December year-on–year result.
Article content
Hours before the Peruvian central bank's rate meeting last month, the nation's president tried to dissolve congress and was subsequently impeached and put under arrest. An 18th straight rate hike is more likely due to political upheavals and persistently high inflation.
Back in Brazil, Latin America's biggest economy outperformed for much of 2022 but signs of flagging momentum abound. Preliminary estimates show a second consecutive decline in Friday's November GDP proxy reading.
For more, read Bloomberg Economics' full Week Ahead for Latin America
—With assistance from Nasreen Seria, Michael Winfrey and Robert Jameson.