---
Yuga Labs, creators of the Bored Ape Yacht Club NFT collection, completed the first load test on Wednesday afternoon of the Otherside metaverse.
The test for the game — which lets users turn their NFTs into playable characters — lasted approximately 25 minutes. There was a gas-less signature to verify Otherdeed ownership and enter the test.
The feedback from land holders — which Yuga Labs will incorporate into the final version — was generally positive. Adam Hollander, who owns 20 Otherdeeds, initially had trouble logging into the platform. But he managed to get in and was "extremely impressed" by the stress test, he said on Twitter. He added that thousands of active players were able to run around as 3D models without lag. 
tropoFarmer, an NFT collector, streamed the event on Twitch. His reaction was similar to Hollander's.
"Insanely smooth, no visual nor input lag," he said on Twitter. "Movement felt fluid and enjoyable + supporting 2500+ users concurrently in a single instance is insanely impressive." 
The experience on Wednesday appeared to be a bare-bones version of what will come on July 16. Today's test featured a white space and over two thousand avatars roaming within it.
"Thanks everyone who came out to stress test this," said Bored Ape Yacht Club co-founder Garga.eth on Twitter. "Had about 2.5k concurrent users running around in the neutral space. Tons of great info compiled to make sure First Trip goes smoothly, and taking all your notes from Discord as well."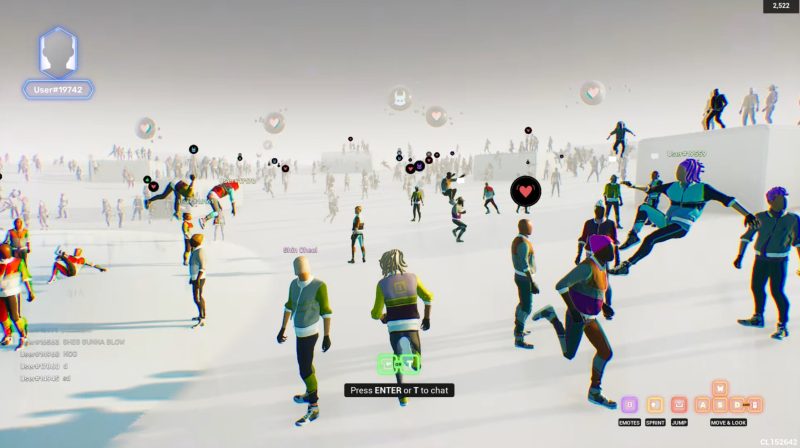 Screenshot of the test. [Credit: Adam Hollander]
---